The Professional Voice Care Center
Welcome to the Professional Voice Care Center, where our mission is to create or restore excellent voices, both speaking and singing. Our
Hicksville, N.Y. facility offers state-of-the-art care to service the unique needs of those who depend on their voices for their livelihood. Individuals in this category include performers (i.e. singers, actors, broadcasters, etc.), teachers, executives, attorneys, salespeople, lecturers, customer service representatives, and anyone else who uses his/her voice in a professional setting. Services include Voice Therapy, Singing Instruction, Audition Preparation, foreign and regional Accent Modification, and Executive Speech Training with our Singing Lessons in Roslyn. Our unique Therapeutic Singing Lessons are custom-tailored to meet the needs of singers with voice problems. We offer services for Parkinson's Voice, Gender-Affirming Voice Training, and Vocal Image Enhancement. We focus on the prevention of vocal problems while improving voice skills through a customized program of vocal abuse reduction and vocal hygiene (i.e., vocal conservation, hydration, avoidance of over-drying medications and caffeine, establishment of anti-reflux regimens, etc.). If you are searching for Singing Lessons in Roslyn, contact the Professional Voice Care Center today! Additionally, our staff of licensed and certified speech-language pathologists and myofunctional therapists offers evaluation and individualized treatment for a variety of communication disorders, including: Articulation, Fluency (Stuttering), and Tongue Thrust/Reverse Swallowing Pattern. Many health insurance companies reimburse for covered speech, voice, and myofunctional therapy services. Our Center participates in numerous insurance plans. Click here to learn more about the health insurance plans we participate in. The Center serves clients throughout Nassau and Suffolk Counties. Alternatively, we can provide you with a variety of online platforms for long-distance voice and singing training.  We're happy to offer you singing lessons in the comfort of your Long Island home (depending on location). All services are available for children age 5 through adult. We look forward to working with you and helping you achieve your voice-oriented goals. If you are searching for Singing Lessons in Roslyn, contact the Professional Voice Care Center today!
About the Director | Karen Sussman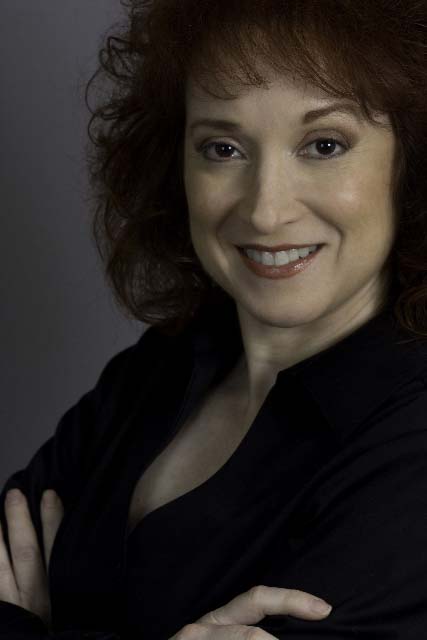 Karen Sussman, M.A., CCC, celebrity voice trainer and vocologist, is the Director of the Professional Voice Care Center, located in Hicksville, NY. She has been a licensed speech pathologist, voice therapist, speech trainer, and singing specialist since 1981. Karen has trained thousands of performers, executives, teachers, attorneys, sales reps, and other professionals to achieve excellent speaking and/or singing voices and eliminate voice and speech problems.
If you are searching for Singing Lessons in Roslyn, contact the Professional Voice Care Center today!
As a singer-actress, Karen has a special interest and expertise in professional voice/speech training. She has lectured extensively for hospital otolaryngology departments, voice and speech symposia, corporations, choirs, and continuing education programs. She has appeared on television and radio shows devoted to voice care and accent reduction. Karen authored a book chapter on voice care for performers and wrote a journal article on voice care for fitness instructors.
Karen is certified by, and a member of, the American Speech-Language-Hearing Association, and holds New York and California State Licenses in Speech Pathology. She is a member of NATS (National Association of Teachers of Singing), and VASTA (Voice and Speech Trainers Association), as well as Long Island and New York State Speech-Language-Hearing Associations. Karen Sussman is a Voiceworks Associate Voice Instructor.
Karen is the recipient of numerous awards, including the Doctors' Choice Awards DCA Top 100, the DCA City Winner in Hicksville NY, and the Distinguished Woman in Health Services from the Town of Oyster Bay Women of Distinction Awards. Her practice was selected as an Opencare Patients' Choice Winner. She was also nominated for Best Speech-Language Pathologist by the Bethpage Best of Long Island contest.
Karen, a Hofstra University graduate (B.S. in Music/Voice Performance and M.A. in Speech-Language Pathology), lives on Long Island. When not working with clients or performing, Karen's passions include hiking the great outdoors and long walks with her dogs.
If you are searching for Singing Lessons in Roslyn, contact the Professional Voice Care Center today!
Virtual Vocal Training
Just because you're stuck at home, doesn't mean you need to miss out on singing lessons. Professional Voice Care Center happily offers convenient Singing Lessons in Roslyn via our virtual vocal training. Our staff of expertly trained vocal instructors will work with you in these difficult and uncertain times to help you find your perfect pitch. If you or someone you know is interested in Singing Lessons in Roslyn during the COVID-19 crisis and afterward, Karen Sussman at the Professional Voice Care Center can help you.
Virtual Vocal Training With Karen Sussman 
The process is easy! Request an appointment by visiting our website and reaching out to us at [email protected] or (516) 433-1822. After doing so, we'll get in touch with you as soon as possible in order to schedule your virtual vocal training. It's that simple!    With the fusion of convenience and the numerous benefits our program offers, why not call and set up an appointment today? The techniques we'll teach you will help improve your vocal range, power, tone quality, and vocal stamina, along with your breath control. Whether you're new to singing, an amateur, a natural, a pro, or just love to sing for the sake of singing, it never hurts to hear a few pointers from experts of the craft. 
Thinking About Trying Singing Lessons in Roslyn?
At Professional Voice Care Center, we're more than just another business. Here, our mission is to create or restore excellent voices, both speaking and singing. No matter what type of singer or speaker you are, no matter how insecure or confident you are in the strength of your voice, know that we are here and eager to lend our guidance to you in any capacity we can. Our virtual vocal training is simple to set up and ideal for Singing Lessons in Roslyn. Don't hesitate to contact us and schedule your appointment today. Bring some joy into your life during these gloomy times by allowing us to guide you to boost the power of your voice. The walls of your house will thank you for later those beautiful vocals you so thoughtfully perfected.
Singing Lessons in Roslyn With The Professional Voice Care Center
If you're looking for more than just virtual vocal training, we offer more services than just Singing Lessons in Roslyn. Check out our other services right here to find the perfect fit for you! Or, if you'd like to learn more about us, you can do that by clicking right here. We hope to hear from you soon! 
What does a Speech Pathologist Do?
If you suffer from a speech impediment or have difficulty being understood due to pronunciation, Karen Sussman, our speech pathologist, can help. Offering Singing Lessons in Roslyn, we can help you excel through your speech and voice problems. Our goal is to get you back out there speaking clearly and with confidence so that you won't have to shy away from talking in front of people.
Responsibilities of a Speech Pathologist
But first, what are the duties of a speech pathologist? To get a better idea of what your first session of Singing Lessons in Roslyn will consist of, read on for more information about what we do. Responsibilities of a speech pathologist can include some of the following: 
Speech training 

Voice training

Evaluation of child and adult

Provide easy to understand instructions for home practices
Services of Speech Problems:
Articulation Disorders

Stuttering

Voice Disorders

Myofunctional Disorders
Steps clients can take to improve their speech problems:
There are steps to take in order to improve your speech problems. The different steps can easily help you overcome the struggle with your communication skills: 
Step 1: Use technology such as IPads to help improve vocabulary and social skills

Step 2: Set realistic goals that help an individual with working on their communication skills 

Step 3: Come up with accommodations that deal with helping the individual in reading, writing, and speaking and empathize with their daily struggle.
How Singing Lessons in Roslyn Can Help!
One of the best methods for treating a speech problem is pursuing Singing Lessons in Roslyn with a speech pathologist. You should see a speech pathologist if you are experiencing trouble expressing yourself vocally, difficulty swallowing or any problems with the quality of your voice. At the Professional Voice Care Center, our expert Singing Lessons in Roslyn can help with the improvement of vocal ability and confidence. Some techniques that Singing Lessons in Roslyn can help you with may include the following:
Improved breathing

Improved oral muscles muscle strength

Memory and problem-solving skills to improve your communication
The Professional Voice Care Center- Karen Sussman
Karen Sussman provides patients with the best resources to improve the various communication difficulties they may be facing. If you come in with difficulties with your speech, we will provide the best treatment to get you back to feeling your best! You will be evaluated and treated by our expert speech pathologist, Karen Sussman. Our Singing Lessons in Roslyn will help get you back on track for any singing and acting auditions you have planned for the future. Our goal is to treat you in a timely fashion, and ensure that you leave satisfied with our facility healthy and strong. Make an appointment today and get started on your recovery! 
Don't Let Being Stuck at Home Stop You From Having a Better Voice!
It's no secret how uncomfortable and disruptive our life has been due to recent events that have been happening in our community. It forced many of us to stay and work from home. This may even have an impact on your voice as you may be stuck at home unable to attend your voice lessons. Fortunately, that isn't the case because here at Professional Voice Care Center, we offer various voice and singing lessons through interactive online platforms! Whether you are a singer who needs to sharpen their note, a radio DJ now broadcasting from their living room, or a teacher offering online courses, don't let being stuck at home stop you from having a better voice.  
Services We Offer:
Our mission is to create or restore excellent voices and it's no secret that being stuck at home can prevent you from achieving the voice that you dreamed of. Thanks to advancements in technology, we can offer voice and singing lessons through interactive online platforms! Contact us today to schedule your appointment and we can offer a personalized lesson right at the comfort of your home. Some of the services we offer include:
Voice Therapy

– If you have a voice problem such as pain or discomfort, vocal fatigue, vocal strain, or increased effort to use your voice during speaking or singing, we can develop an individualized voice rehabilitation therapy program to treat your voice problem. 

Singing Lessons in Roslyn– We can help you develop a personalized singing instruction program. Whether you are seasoned or a beginner, we can guide you every step of the way and prepare you for the next audition, or concert. 
Audition Preparation– We can assist you with your preparation for any audition whether it be a community, regional, or professional. We can even assist you with monologues, scenes, and more. We can help you on your way to success.
Singing Lessons in Roslyn
Visit our website today to see more of the services we offer today. Don't let being stuck at home stop you from achieving your goals! Contact us today at Professional Voice Care Center and schedule your appointment with us today for your next voice and singing lessons via interactive online platforms!
Contact Us For Singing Lessons in Roslyn
(516) 433-1822
Fax: (888)-388-1934 184 West Nicholai Street Hicksville, NY 11801 By Appointment Only [email protected] If you want more information about any of our services, either at our Center or via interactive online platforms, feel free to fill out the form below. A Voice Program Coordinator will get back to you as soon as possible.
We serve all of Long Island and the Greater New York City area including Hicksville, East Meadow, Plainview, Glen Head, Huntington, Brookville, Jericho, East Williston, Syosset, Old Westbury, Melville, Levittown, Garden City, Farmingdale, Bellmore, Massapequa, Wantagh, Forest Hills, Kew Gardens, and even more locations through online service delivery.  
Contact our Voice Program Coordinator at (516) 433-1822 for more information.